Welcome To Aqua Drillers :
Aquadrillers is full service well drilling company in business since 1992, providing quality workmanship in all areas of service, including Industrial, commercial, municipal, residential and public works across the country. We are one of the leading tubewell concerns in India. We have cable and RC, DC rotary rigs. All equipment is kept in very good condition, both mechanically and in appearance. For over 20 years we have been drilling, maintaining, refurbishing and commissioning boreholes, wells and auxiliaries. During that period we have provided services to a number of clients within the Industrial, Manufacturing, Chemical, Commercial, Development, Pharmaceutical, Agriculture, Education, Leisure, Water and Food & Drink sectors.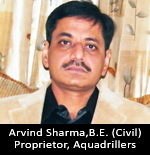 Where necessary the drilling expertise of Aquadrillers has been supplemented by a team of associates that include Research Professors, Civil & Structural Engineers, Biologists, Chemists, Geologists, Hydro geologists and Hydrologists.
We are among the most experienced borehole and water well engineers in north India. we also provide maintenance services to keep tube wells, pumps, filters and equipment in good working order.
We are committed to providing you efficient, reliable water well drilling and service at affordable rates. We stand behind our work with the experience and confidence unparalleled by any of our competitors.
We, at Aquadrillers are environmentally conscious & dedicated to make sure that any drilling that is done & tubewell which has been commissioned will have no undesirable health effects or adverse affect on environment.